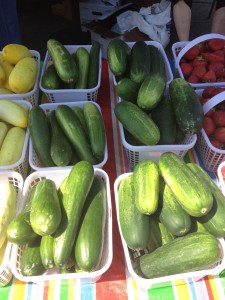 If it wasn't so hard to make a great pun out of the vegetable zucchini, cooks everywhere would be telling that you YES! You Zuc "CAN" do more with zucchini than just fry it. In fact, frying it too long or with too much oil can leave your 'chini looking droopy and lacking its trademark delicate fresh taste.
Since the summer squash (just another name to call zucchini) is a great source of potassium and Vitamin C, go ahead and sneak it into your diet while they're freshly homegrown.
Start on www.food.com. This website has an awesome library of food that tells you how to select the best veggies, as well as recommendations for its matches when cooking.
http://www.food.com/library/zucchini-316
It's a rare person who can't appreciate a delicious bread. If you're looking for some tasty ways to keep your zucchini from spoiling, try this recipe for zucchini bread. Not only is it delicious, but throw some foil on it for all those summer potlucks you're attending.
http://allrecipes.com/Recipe/Moms-Zucchini-Bread/Detail.aspx
Um…Chocolate Zucchini CAKE? Apparently so. A sly way to sneak veggies into a veegie-hater's diet (meaning most children, right?)
http://allrecipes.com/Recipe/Chocolate-Zucchini-Cake-III/Detail.aspx
If you're pressed for time, it only takes 20 minutes to sautée zucchini and it's especially tasty if you add some of your yellow squash.
http://www.chow.com/recipes/29698-sauteed-zucchini
But don't limit your zucchini intake to summertime. Don't forget that you can always freeze your extras and defrost for winter dinners. Here's a link with easy instructions for freezing and using zucchini.
http://www.provident-living-today.com/Freezing-Zucchini.html