Support East Lake Market and REVIVE Urban Food Project by purchasing an Eat the 'Ham veggie bag.
We're putting together bags of fresh Alabama produce for $25 and $35
$25 Fresh Veggie Bag includes green beans, yellow squash, tomatoes, okra, bell pepper, cucumbers, greens, and sweet potatoes.
$35 Fresh Veggie Bag includes all of the fresh produce listed above plus Southern Chow Chow and Alabama Honey.
Order by Tuesday, October 8. Just fill in the order form below and it'll take you to PayPal.
Pick up at East Lake UMC on Friday, October 11.
From 11-2, pick up will be in the Downstairs Diner (back of the church on the 2nd Avenue side, follow the signs downstairs).
From 2-6, pick up in the P.E.E.R., Inc. office.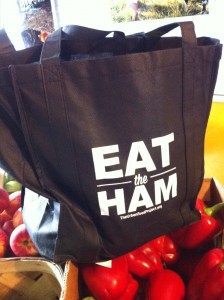 Also join us for $6 Farm Table Lunch, October 7-11 from 11am-1pm at the East Lake UMC Downstairs Diner. Here's the menu to tempt you!
Mon 10/7 – Pork Roast with Chow Chow, Fall Vegetable Medley, Baked Apples
Tues 10/8 – Macaroni and Cheese, Butternut Squash, Greens
Wed 10/9 – Chicken Gumbo, Baked Sweet Potatoes
Thurs 10/10 – Baked Chicken, Squash Casserole, Green Beans
Fri 10/11 – Meat Loaf, Mashed Sweet Potatoes, Peas
Here's more info about the East Lake Pop-Up Project:
October 7-12, 10a.m. – 8p.m.
Our East Lake Pop-Up Project is oozing with charm. There will be a community art gallery. There will be local craftsman retail. There will be a photography studio. There will be even more art and retail. So, come on out and enjoy!
7603 1st Avenue North  & 81st Steet South and Rugby Ave
Featured Pop-Ups:
City Arts Boutique, Nansu Home, Love Carnival, East Lake Arts District, East 59, Jumplight Farms, Streetcat Media, Poetry Box, Picturing Birmingham
For more info, go to revivebirmingham.com.