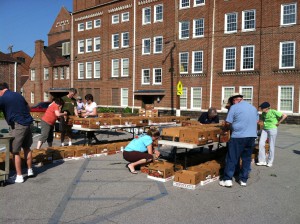 Everyone should have access to nutritious, delicious and (especially) fresh food. After all, if you had to pick between canned green beans, which, let's face it, are kind of soggy and mushy, or farm fresh green beans…well, do you really need to say it? You know which you'd rather see on your plate.
As delicious as the image of fresh veggies is, for many seniors in the community, it's become nothing more than a memory. Many of our older citizens find themselves unable to easily visit the grocery store, much less their closest farmer's market. The thought of ANYONE going without fresh produce or homemade jams, jellies and fresh baked bread gets the East Lake Market team fired up!
Don't worry – we've already started doing something about it. Did you know about our Food Baskets for Seniors Program? The proceeds from the Fresh Market Baskets you may already receive (and if not, what's the hold-up?) are used to fund the delivery of food baskets to elderly neighborhood residents in need. Deliveries begin on June 15th and are delivered to the door of seniors at two different neighborhood facilities.
If you're interested in helping us deliver more Senior Market Baskets, there are several ways to get involved.
You can sponsor a Senior Market Baskets at the same price as the Market Baskets available at the market every week.  Did you know $250 covers one senior's basket for the ENTIRE season and $400 covers 2 senior's baskets? But any amount you are able to give is appreciated.

You could also volunteer to pack Senior Baskets – and guess what- it's a family friendly volunteer opportunity! Drag your vacationing school kids out of bed to the East Lake United Methodist Church parking lot around 7 a.m. on Saturday to help finish setting up the market and start packing the boxes.
             OR!
After the baskets are packed, you could volunteer to deliver the Senior Baskets to two area senior living facilities. Please note: this type of volunteer work will require lifting and carrying boxes.
However, with so many students looking to accrue some volunteer hours over the summer, this is an easy way to give back to the community and also, possibly meet an interesting elderly person who might enjoy a bright smile from a happy visitor. 🙂
Contact Christa Lyle at [email protected] for more info or simply show up one morning, ready to lend a helping hand!